InterSys™ Software

Risk Software Solutions to suit your business

Every company has its own ways of working and faces a unique set of challenges. These need to be managed using tools and techniques that suit the particular organisation. InterSys recognises the individuality of each company and with this in mind has a number of basic risk tools that can be customised to suit you:
| | |
| --- | --- |
| Risk Profiler | including risk register & risk plotting facility for upside & downside risks. |
| SCAIR Supply Chain Analysis of Interruption Risks | a Business Interruption Loss Estimation Tool. Map your supply chains and estimate the exposure at each critical step. |
| Audit Management Toolkit | plan your audit and manage the follow up process & ongoing supplier relationships. |
| Capital Project Risk Assessment & Budgeting | risk assess your project & estimate your budget based on that assessment. |
| Portfolio Risk Reward Profiler | assess which investment opportunities align with your risk appetite. |
SCAIR - Supply Chain Analysis of Interruption Risks.
Not aimed soley at the risk professional, SCAIR has a 'Business User Friendly' Flowchart driven interface which can be used by Supply Chain Management and Purchasing Professionals alike (click for more detail)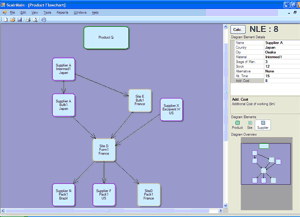 InterSys has developed these tools using standard technology (Microsoft & Web based products) facilitating the longer term development and maintenance of the packages.
Other InterSys Software
InterSys have developed a range of other tools and packages, from Cataloguing Systems to Microsoft Office 'add in' software to enhance the functionality of standard Office solutions.
| | |
| --- | --- |
| Contracts Catalogue System | Supplier and Customer management providing robust SQL Server Web based interface. Generate automatic email reminders at key contract points, ensuring short a payback period as revenue streams are no longer missed. |
| Manufacturing Control System | Complete manufacturing control, Order Management and tracking. Web interface. Barcodes, Reporting. |
| XML Email processor | Outlook tool automating XML email processing. Output XML structured emails to spreadsheet or other format in one click. Uses include mandated order processing. |
| Database Diariser | Add reminder appointments to your Outlook calendar from your existing Access Databases |
| Recruitment Management | Specialised Recruitment Client and Candidate management system. (In Development). |