+44 (0)20 3005 4440
Managed IT & Cyber Security Services from Experts you can Trust
Whether it's misplacing important data or being the victim of a targeted attack, organisations today have to contend with an ever increasing range of IT and Cyber security threats.
In fact, 43% of businesses and 19% of charities experienced a cyber-security breach or attack in the last 12 months alone*. And it's easy to become a part of that statistic if you don't have the right information security systems in place.
With a variety of IT and cyber security solutions to keep you ahead of the game, Intersys is the key weapon in your cyber defence arsenal. We make sure that your organisation stays protected from a range of external and internal threats.

*2018 Government Cyber Security Breaches Survey
How We Can Help
When you choose Intersys as your managed IT and cyber security partner, you can rest assured that you are getting highly experienced, ISO 27001-certified, data protection and GDPR-aligned IT security experts with a deep knowledge of IT and cyber security issues.
Our IT Security Certifications and Accreditations
UKAS accredited ISO 27001
WatchGuard Gold Partner
EC-Council CEH (Certified Ethical Hacker)
Microsoft Gold Partner
Cyberoam Gold Partner
CompTIA Security+
CompTIA Network+
BCS CISMP (Certificate in Information Security Management Principles)
Computer forensics and investigations (postgraduate course)
Our process
All our IT and cyber security solutions are underpinned by four key principles: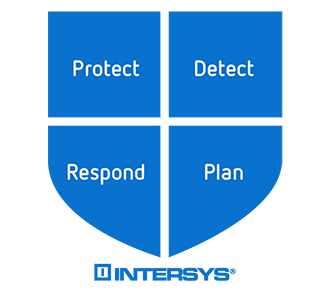 All of these principles are based on an approach that looks at the technology, processes and people within your organisation that will have the biggest impact on your security.
IT & Cyber Security Threat Protection
With the average cost of a data breach in the UK now standing at £2.7m, prevention is the first line of defence against impending threats. Our IT and Cyber Security Threat Protection Services offer a complete range of preventative security measures at the level that you need. From sourcing the right cyber and IP assurance to expert system monitoring and intrusion protection to anti-phishing training, we can create the necessary IT and cyber security safeguards to ensure your data stays safe.
IT & Cyber Threat Detection
Our IT and Cyber Threat Detection Services can help identify and remediate threats before they become incidents. Not only do we hunt for signs of malicious activity, we also identify vulnerabilities in your infrastructure that could be exploited for future attacks. We run the full course of assessment, detection and testing including security audits, On Premises Malware and Antivirus, vulnerability scanning and penetration testing.
IT & Cyber Incident Response
Your organisation's recovery from an incident depends on your response to it. Our IT & Cyber Incident Response Services can give you the GDPR-aligned expert guidance you need to respond appropriately to an incident. From data breach response plans to urgent on site assistance with a security breach, trust our experts to help investigate, contain and rectify the damage. We provide experienced, qualified and tenacious security specialists who will help to re-secure your organisation.
IT & Cyber Security Plan
IT and Cyber security planning is one of the most important protections that your organisation can invest in. We can help you plan for the future so that you are prepared to face a broad range of internal and external threats. Our services include policy and forensic readiness planning, staff training as well as adherence to corporate polices and industry best practices.
IT Security Experts Since 1996
We have been managing the IT security of organisations across a range of sectors for over 20+ years. From the early days of Trojans to the present threat of malware and ransomware, we have seen the threat landscape evolve to its current complex state.
And there is one thing we know for certain: your information security systems are only as strong as their weakest link. You may think you have a sophisticated IT infrastructure in place, but if you're not doing your basic housekeeping, you're vulnerable. It doesn't matter how expensive your firewall is, if it's not properly configured along with your underlying infrastructure, it's just a matter of time until you suffer a breach or attack.
Our team of highly experienced IT and cyber security experts can provide the safe pair of hands that you need when it comes to dealing with highly valuable and sensitive data and systems. We have strong experience in the specialist and high-demand areas required to boost your security.
Reduce Risk and Avoid Disruption
Is your network properly segmented and are permissions assigned on a 'Principle of Least Privilege'? How secure are your networks? When was the last time you had a penetration test? How often do you run anti-phishing awareness training for your internal teams? Do you know how to respond appropriately to a data breach?
Intersys can help you find the answers to these questions by helping you understand your information security landscape, identify vulnerabilities and fix them before they become problematic.
If you have already fallen prey to a cyber-attack or data breach, we can help you respond in the right manner (minimising downtime) and put in place systems and processes to ensure it doesn't happen again.
We can also train your internal teams to make certain they are doing everything they can to remain vigilant and compliant with industry best practices.
We believe that this is a vital for all organisations and we understand how to do this at a practical level.
In fact, we practice what we preach: Intersys holds UKAS accredited ISO27001 certification for Information Security Management Systems (ISO/IEC 27001:2013). Click here to read more about our ISO 27001 credentials.
Certified Network & Security Experts
Watchguard Security
With IT security posing one of the main challenges to organisations today, WatchGuard provides network security products and computer appliances to safeguard you and your information from attack.
Impero Education Pro
Trusted by education establishments across the world, we recommend Impero for our Education customers. Impero was born inside the classroom and, in response to the shifting demands of learning environments, Impero's Education Pro remote monitoring and management solutions are developed to respond to the changing online safety and education technology landscape
Want to know more?
Get in touch with our team: +44 (0)20 3005 4440