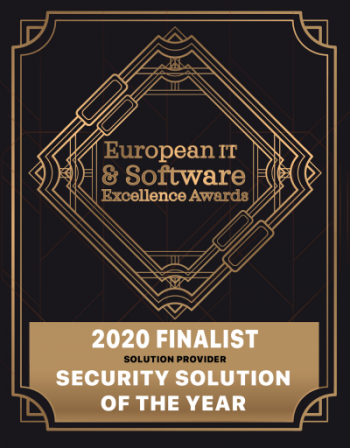 Here we go again! Intersys a finalist third year running at IT Europa Awards
The European IT and Software Excellence Awards 2020 has announced that Intersys are among eight finalists for Security Solution of the Year. This follows our shortlisted entries in 2018 and 2019 for our IT and cyber security business — including a win in 2019 for Service Solution of the Year.
Says our MD, Matthew Geyman, 'Everyone in the team was thrilled to learn we are back in the running for a third time. I'm particularly pleased that we're being recognised this way in the Security category. It's a hugely important area – more and more so as each year passes – and this nomination helps to confirm we are among the very best in the field when it comes to ensuring organisations are safe from attack, and compliant.'
A globally significant cyber threat
The Intersys team, picking up their Service Solution of the Year award in 2019.
Our shortlisted entries included rapid-response security mitigation work, one of which described an exercise undertaken for a high-profile, confidential client, following an attack from extremely well-resourced and organised hackers.
Sophisticated threats were quickly identified and neutralised, before Intersys offered comprehensive recommendations to prevent future attacks. The client was extraordinarily impressed by our approach and emphasised the significance, to many parties around the globe, of keeping their IT systems safe.
The award nomination comes in the wake of a growing list of clients approaching us for our cyber security services, from a wide range of sectors including education, legal, life science and pharmaceuticals, financial and insurance services, non-profit, manufacturing and more.
Europe's leading IT awards
Now in their 12th year, the European IT and Software Excellence Awards are billed as 'the leading pan-European awards for channels, ISVs, developers, solution providers, systems integrators and their vendor and distribution partners'. More than 500 entries from 27 countries were submitted across more than 20 categories.
Intersys will compete with seven other finalists in the Security Solution of the Year category, with the winners announced at an Awards Dinner at the Royal Garden Hotel on 19 March 2020.
The Intersys team will be donning tuxedos and smart dresses for the big event – and possibly crossing fingers as the winner in their category is revealed.
Whichever way it goes on the night, we will be celebrating an extraordinary hat trick of shortlist nominations at 'The Big One' for IT awards.