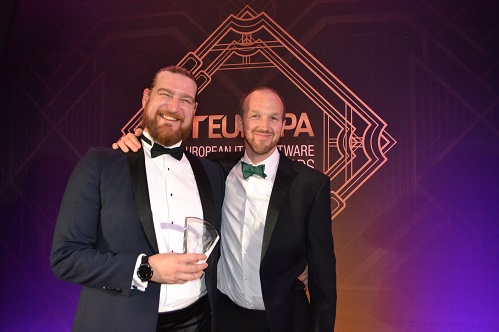 Intersys Wins Best Remote Working Support Solution 2021!
The Intersys team headed to The Royal Lancaster earlier this month for the European IT & Software Excellence Awards 2021. Dressed to impress and ecstatic to be back celebrating in person, we were nominated in two categories and won Best Remote Working Support Solution! Intersys have won an European IT and Software Excellence Award every year since first enterting in 2018. The event has been celebrating IT and software innovation and work for 12 years, but this year was exceptionally special. Covid fundamentally reshaped the work landscape and there was a special focus on the impact the pandemic has had on the industry in 2020 – 21. It was also a great opportunity to collectively celebrate everyone's efforts throughout the pandemic.
The award win reflects our commitment to a vast array of clients that all had varied needs throughout the pandemic. We ensured all of them had a smooth transition to home working and learning.
We have been working with one of Europe's largest special educational needs schools for the last five years. When lockdown commenced, we made sure each child was equipped with necessary devices for home learning, consisting of prioritised procurement of devices, non-mainstream hardware, and tailored software. We ensured that the students were safeguarded, that teachers held utmost control and that systems were secure from malicious attacks.
Our clients within the pharmaceutical industry were vital in the UK's covid response, manufacturing and distributing vaccinations. We provided a quick and seamless transition from office-based work to a secure remote work set-up. This was an exceptionally demanding time, and we're proud of the role we played in helping our clients supply critical and life-saving medicines to hospitals and patients.
Matthew Geyman, Owner, Managing Director and Senior Consultant said:
"The award highlights the trust that our clients have in Intersys. It demonstrates the importance of long-term relationships with people who value a high-quality service and who are receptive to change. Continual and proactive improvement of an IT infrastructure and its security, translates into agile organisations. It means clients are enabled to quickly react to new challenges, thereby securing their own competitive advantage. It's also wonderful to know that the hard work of our team is independently recognised and that we can make a difference not only to individual organisations, but nationally."
We had the honour of being nominated for two awards. Our first was for Best Remote Working Support Solution reflecting our work to keep organisations running seamlessly and securely from home during the pandemic. Our second nomination was for Security Solution of the Year and recognised our place among the very best in keeping businesses safe and secure from cybercrime. Intersys were one of six finalists from 700 entries in this category, demonstarting the high calibre of our service offering in a competitive field.
Successful partnerships
We also had the pleasure of celebrating the work of others throughout the trying times of 2020. Intersys sponsored the categories of Software Vendor of the Year and Technology Vendor of the Year. The awards were presented by Executive Director, Mark Kirby and we were thrilled that both categories saw wins from our partners Connectwise and Kaseya.
Software Vendor of the Year: ConnectWise
Technology Vendor of the Year: Kaseya
Overall, it was a magnificent evening! Through the difficult times of lockdown and slowly easing back into the new normal, work life has changed drastically. Intersys, like many companies, has adopted hybrid working so this event brought the team together to celebrate in person.
Despite a manic run through central London to find cufflinks (Mark Kirby) and a few stumbles in a dress that was far too long, it was a truly brilliant night! Seeing our colleagues (in the flesh!) dressed to kill and accompanied with spectacular food and wine (and a cheeky cigar) made the evening magical.