For manufacturing companies wishing to visualise their end-to-end supply chains and quantify financial losses resulting from supply chain failures, SCAIR® is exactly the kind of sophisticated software tool you need.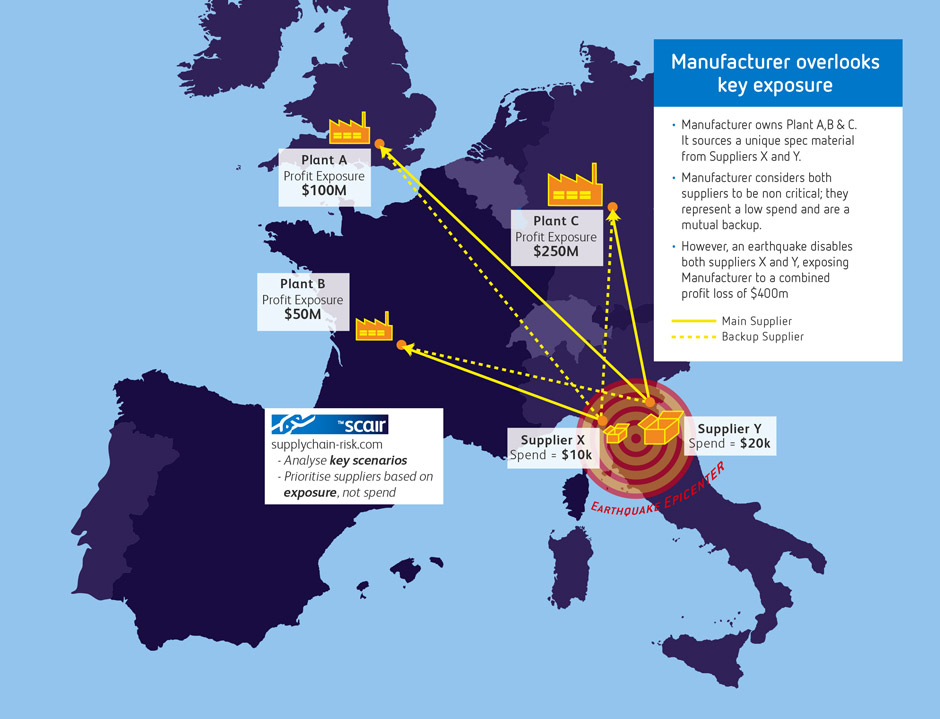 Make Better Business Decisions with SCAIR®

SCAIR® is an award-winning, sophisticated supply chain mapping tool that helps manufacturing companies visualise their global, end-to-end supply chains. Its unique flow-chart-driven structure allows you to map supply chains, quantify business interruption losses, and stress test different supply chain contingency scenarios.
How we work
With its intuitive, flowchart-driven interface, SCAIR® quantifies the accumulated exposure of the company's portfolio of products to each critical supply point, based on existing internal planning information and profit predictions, allowing both risk and supply chain professionals to map critical supply points and estimate exposures.
This robust enterprise platform has an established blue-chip client base and overcomes the limitations of traditional Spreadsheet SCRM modeling, making the process more accessible and more effective through visualisation, multi-scenario modeling, concurrent usage, and team collaboration, including accessible, intuitive web access.
This structured approach to quantifying the supply chain risks facing your manufacturing company makes SCAIR® a user-friendly tool that allows you to respond appropriately and decisively to modeled failures in your supply chain and improve supply chain decision-making by focusing on the value at risk and prioritising your supply chain risk management efforts.
This enables you to quantify the impact of critical supply point failure on your bottom line, helping you formulate appropriate continuity plans and increase levels of preparedness, should the unthinkable happen.
Key Benefits:
Designed by industry risk professionals, used by both Finance and Operations to inform the CxO
Designed to handle multi-stage, complex supply chains
Enables a cost benefit analysis of the value of investing in contingency plans against the value at risk
Multi Scenario Loss Estimation: model different threats and events
Analysis by financial value at risk and loss in market share
Multi-User (collaboration across your entire organisation, including non-risk, supply chain, and finance professionals)
Customisable terminology to suit your organisation
Graphically driven, enabling more effective complex supply chain visualisation
Customised and bespoke options available
Used to optimise insurance procurement with loss estimation methodology approved by leading insurers