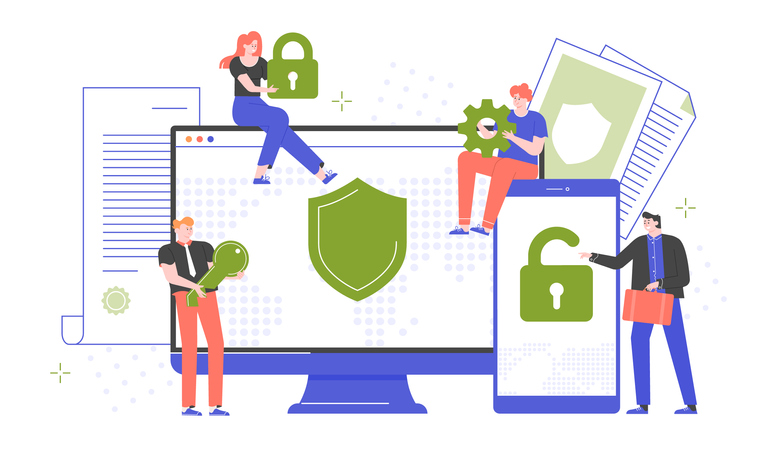 Malicious hackers are always quick to exploit new vulnerabilities in the cyber security environment, and the move to remote working as a result of covid-19 has provided them with plenty of these. Back in March, when companies around the globe found themselves madly scrambling to change working practices overnight, cyber security often took a back seat, leaving the door open for cyber criminals. During May and June, when the UK was battling the first wave of covid-19, new research shows there was a 31% increase in cyber attacks, at a cost of over £6.2 million to UK businesses.
More than half of coronavirus-related cyber attacks used email or social media to target their victim. Often, they exploited people's insecurities about the pandemic, for example by sending phishing emails promoting personal protective equipment or testing kits, or pretending to be from the government or a health authority. Once vaccines become available, Interpol expects another spike in phishing emails related to these products.
While it is too early to assess the full impact of the pandemic on the corporate world, one thing is clear: whether we transition back to the office, continue with work from home (WFH) practices, or adopt a hybrid model, we can't afford to let down our guard and invite these cyber criminals into our workspaces.
For many businesses, the solution to the increase in cyber threats is to outsource cyber security to a managed security services provider (MSSP). Also known as security operations centres, MSSPs are IT service providers who specialise in offering proactive, state-of-the-art cyber security that goes beyond the level of regular in-house security or that offered by a standard managed service provider.
5 reasons why you should consider outsourcing your cyber security to a managed security services provider
1. Remote work is here to stay
A study by the Institute of Directors (IOD) found that almost three-quarters of those surveyed intended to continue with increased home working after the pandemic is over. In fact, 40% felt that WFH was proving more beneficial than their previous set-up. The Welsh government has gone so far as to make it a target for 30% of people to work from home in the future, in an attempt to reduce pollution and congestion.
While allowing employees to WFH is advantageous in many ways, it does make cyber security more challenging. In a study by security firm Zscaler, only 45% of UK respondents said they were confident that they have a secure remote access infrastructure in place for WFH employees.
2. Your WFH employees may be your weakest link
A survey into the impact of Covid-19 on business security by US anti-malware company Malwarebytes uncovered some worrying facts about WFH practices. Almost one-third of respondents admitted they sometimes used their personal devices for work, and more than one-quarter used their personal devices more often than their workplace ones. While using personal devices for work is a perfectly acceptable choice when an organisation has Bring Your Own device (BYO) policies and procedures in place, it creates a security risk when these devices are unmanaged. Whether it's concerns about the use of personal devices, the substandard security of home Wi-Fi networks, or passwords being re-used on multiple devices, a reputable security operations centre has the knowledge and experience to help support a remote workforce without compromising security.
3. Many businesses rushed into WFH without a security audit
For reasons that are entirely understandable, many businesses rushed into remote working, adopting new hardware and software and rolling it out overnight without the opportunity for proper security audits or procedures to be established. While some industries have flirted with teleworking before– allowing employees to work from home some of the time – many others had little or no experience with it. This is especially true of organisations such as schools, financial services and legal firms, where data protection is a key concern.
Now that several months have passed and working from home – at least some of the time – has become the new normal, it's time to review policies and procedures to see if any changes are needed to keep organisations secure in the long run.
A security audit run by an experienced cyber security provider may be the best investment you make this year.
4. A security operations centre offers improved protection and expertise at a fraction of the cost
Cyber security experts don't come cheap. Hiring an in-house team of cyber security professionals will set you back a considerable sum. By outsourcing to a security operations centre, you get access to an entire team, each with their own area of expertise, without having to pay their salaries.
Even if you have your own in-house IT team, outsourcing your cyber security to a security operations centre allows your IT team to spend more time ensuring the efficient running of your IT systems and less time putting out fires.
Furthermore, working with a reputable MSSP also mitigates against expensive legal problems in the event of a data breach.
5. A security operations centre is suitable for businesses of all sizes
While many believe that MSSP is only for big businesses, it is small and medium-sized businesses that may need this kind of support the most. Their in-house IT is unlikely to have the level of expertise necessary to handle the cyber security needs of our rapidly-changing world.
Delegating cyber security to an MSSP is particularly important for heavily-regulated industries where it is essential to have a deep understanding of regulatory compliance as well as the usual cyber security issues – for example, pharmaceuticals, legal services and financial services. Data breaches in these industries can lead to extraordinarily expensive fines and settlements, as well as loss of reputation.
Intersys offers a security operations centre service for organisations of all sizes. Choose from the Silver, Gold and Platinum packages to get rock-solid protection from an industry specialist in IT security. Prices are scalable and cost far less than you might think. Find out more about SOC as a service from Intersys, or get in touch now and tell us about your requirements.