Dedicated Appliances – No matter how big or small you are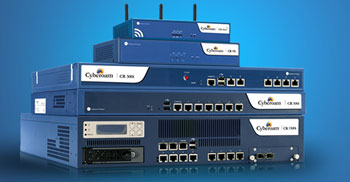 Cyberoam Unified Threat Management appliances offer a complete security solution to any business from large enterprise to small offices. Multiple security features integrated over a single, Layer 8 Identity-based platform make security easy to manage, and highly effective.
Cyberoam Gateway Anti-Virus and Anti-Spyware solution give email and web security against malware such as viruses, worms, trojans, spyware, backdoors and keyloggers. Cyberoam also has the option of IPSec, LT2P, PPTP and SSL VPN over its UTM appliances, allowing remote access to organizations that is secure. The VPNC-certified Cyberoam communicates with most third party VPNs, making it compatible with existing networks and providing secure access for remote workers, suppliers and customers.



Cyberoam Wi-Fi security appliances protect home and remote offices and public Wi-Fi access providers from intrusions, identity theft through MAC spoofing, DoS attacks and malware entry. The CRwi Wi-Fi appliances have 'Layer 8' security that is identity-based, giving very high levels of security with great flexibility over LANs. The devices support 802.11n/b/g wireless standards and combine the features of a router and Cyberoam's full complement of UTM features, with the benefit of reduced overhead to organizations.

Cyberoam's patent pending, Layer 8 Human Identity-based firewall appliance offers stateful and deep packet inspection for network, application and user identity-based security, it protects organizations from DoS, DDoS and IP Spoofing attacks, and enables work-profile based policies and a single interface for policy creation across all the UTM features, providing ease of management and high security with flexibility.



NetGenie is a Unified Threat Management (UTM) appliance that offers a secure Internet experience to Small Offices, Home Offices. It allows the Internet connection to be shared with office users over desktops, laptops, handheld devices like iPad, iPhone and more –at the same time.


NetGenie has the following features:
3G Ready – NetGenie enables offices to plug in USB broadband or 3G modem and share the 3G Internet connection with multiple users in office at the same time, besides offering a back-up for uninterrupted business connectivity.
Security – NetGenie keeps offices protected from hackers, viruses and malware with Stateful Inspection Firewall, NAT capabilities, Denial of Service protection, MAC binding, Intrusion Prevention System and a regularly updated in-built Anti-Virus.
Virtual Private Network (VPN) – NetGenie allows secure access to network resources located at remote offices like vendors' offices or central office, enabling continuous collaboration and exchange of information, around the world, in real time and securely.
Internet Controls – NetGenie blocks harmful Internet content, enabling offices to manage the websites and applications their employees can access over the Internet, also managing their office productivity. NetGenie's pre-categorized list of websites and applications in NetGenie remove the inconvenience of manually entering them so as to block them for users.
Pre-Set Wi-Fi Security – NetGenie ensures that no unauthorized device connects to office networks the moment it is turned on with its pre-set security settings that eliminate the need to manually configure complex security settings.
Reports – NetGenie offers real-time reports on websites visited and applications used by employees along with security reports on virus and intrusion attacks.
Intersys® are Certified Network & Security Experts for Cyberoam Systems. Give us a call today to find out how we can help you and your business.