A Great Relationship Starts with Fair, Transparent Costs
Our IT support pricing for ongoing managed support is cost-effective and transparent, so you know exactly what you are getting for your money. At Intersys we:
Charge you a fixed monthly cost per user — a scalable pricing approach that ensures your IT expenses only grow as your business does.
Quote a realistic price that guarantees high-quality results — we are scrupulous about only quoting what will allow us to meet our high standards and serve your business well. Unlike some competitors, we won't quote low merely to win work!
Include regular monitoring and routine maintenance in your quote — many companies do not include this and will charge for checks and repairs.
Clearly tell you what is and isn't included in our IT support services fee — we'll explain beforehand if you are expected to pay for certain extra services. You can find more information about this further below.
Clear and Comprehensive Quotes
We charge per user, per month. This support-per-user model will be clearly broken down for you in any quote you request. Each item is listed with a corresponding rate per user, with larger, more complex hardware or systems naturally costing more than simpler ones. Here's an example of the kinds of hardware and software we help clients with, presented with the higher-priced items first:
Servers (on premises or hosted)
Managed firewall
Workstations
Office 365 tenant management charge
Managed network devices, for example switch
VoiP (voice over internet protocol) support
Mobile device management
Flexible IT Support Pricing — Every Size of Business Covered
Our managed service model offers you complete flexibility to match your requirements as your business develops. If you need to reduce your users for any reason, your IT support costs will go down. Similarly, as your business grows, your IT needs and support will grow with you.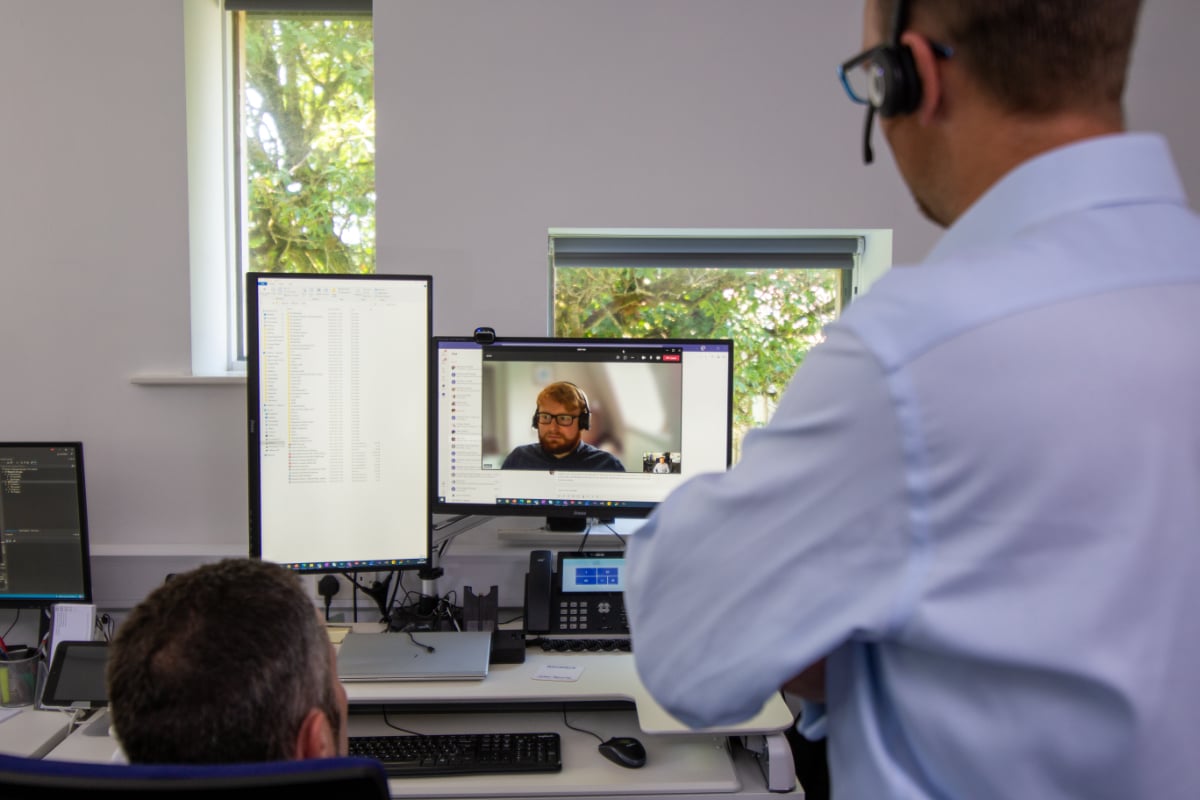 How Are Managed Services Priced?Realistic Pricing for a High-Quality Service
What's a great price from an IT company? The lowest one? We'd say not necessarily. In fact, you might want to look closely at how that 'great-value' price adds up.
For instance, a price of £25 per user might sound like a good deal. But it's a good deal only if the job is being done properly. At that kind of price, we believe that just isn't possible.
Here's why. Let's say you have 25 staff. 25 x £25 = £625 p/m. What exactly are you getting for your £625? The answer is probably not as much as you think.
That's because you shouldn't expect to pay less than £70 per hour to a company that employs diligent, knowledgeable and personable IT staff; uses modern technology; and holds ISO27001 certification because they have invested heavily in security (and you really should check they have invested appropriately in security, because many simply won't have).
So, if we take this £70 as the 'entry point' for a reputable provider with your interests at heart, your £625 will buy you just under nine hours per month.
It doesn't sound like much and it isn't. Can you imagine running the IT needs of 25 people – and the business as a whole – on nine hours per month?
Here's the bottom line. Pay low-per-user prices for your IT and you'll get a second rate service or be asked to pay for endless add-ons. With that in mind, a more 'expensive' price (we call it a more 'realistic' one) can look like the most attractive option after all.
Benefits of Our Pricing Model
Fixed monthly price per user
Essential maintenance included
Unlimited support
Cost saving
No Hidden Extras — Regular Monitoring and Maintenance is Included
Unlike many IT providers, we include essential monitoring and maintenance in our quote. This means that you won't pay extra for our regular checks of your IT networks and systems, and any essential maintenance required following those checks. In the long run, this inclusive pricing makes our services more cost-effective than apparently cheaper competitors.
Scheduled monthly site visits for routine maintenance and user assistance
Director-led strategy meetings to ensure that the IT supports your business objectives
Unlimited remote and phone support
Unlimited on-site support, if we believe the issue can't be resolved remotely
Complete Transparency — Here's Everything our Service Does and Doesn't Include
We want to provide the fullest service to you possible, but it's also important we clearly set out what we do and don't include in our IT support pricing for our monthly managed service. Here's the full list of included/not included items. Remember, many of the 'not included' items can become part of our service to you for a separate fee. Just pick up the phone and start the conversation.
Our Managed Services Include:
Unlimited phone and remote support sessions
Unlimited on-site support, if we believe an issue can't be resolved remotely
Monitoring of system health, both technician led and automatic
ITIL Helpdesk available contractually from 9am-6pm (typically available from 8am – 6pm)
24-hour ticket logging (via phone call or email)
Technical incident escalation through 1st, 2nd and 3rd line teams
Senior Consultant or Director level support, if necessary
Triage and analysis of support issues (whether in-scope or out)
Fault identification and rectification
Periodic on-site engineer visits for systems maintenance and ticket resolution
User account creation/modification/deletion
Problem management and escalation process
Liaison with third-party providers
Discounted project costs (reduced from the attached rate card)
Preferential rates on procurement (eg security software)
Preferential rate on Managed Security Service
Advice and guidance on use of existing systems and recommendations for improvements
KPI measurement and reporting
Quarterly reviews and feedback meetings
Our Service Does not Include the Following (which are optional or extra):
Initial setup / onboarding. This is typically a three-day exercise, with a one-off cost. It includes: installation and supply of our device management software; further detailed technical investigation into your infrastructure and creation of full system documentation; set up of monitors and alerting into our helpdesk; set up of MDM; familiarisation with and training regarding your environment and organisation for our team; identifying priority areas for improvement; determining security credentials; liaising with suppliers; handover from your existing IT staff; and finalising security
Projects and Infrastructure changes. For instance: set up of new computers and devices (PC/workstation/laptop); setting up new equipment (expansion etc); and additions to and modifications of installed systems. Contact us to quote for these services
Any other time required on site not covered by standard 'business as usual' (BAU) IT support
Work outside of business hours (including weekends, bank holidays etc)
Managed Security Service. This is a separate service that can be purchased separately or as an uplift to the IT Support and is priced per device. It provides a much higher level of security and service, extra software, logging, vigilance and proactive work, as well as breach and response planning etc. It's not possible to include this level of work within standard BAU Managed IT Support Agreements because it can easily become such a large exercise in itself. Think of it as insurance. Find out more about our Managed Security Service.
Domain registration / renewal – available from Intersys here
Website hosting – available from Intersys
Software development (including SharePoint and development of Workflows etc) – available from Intersys here
Website development (available as a separate project fee or day rate) – available from Intersys here
Support for systems no longer under manufacturer's warranty
Data recovery (other than back-restores covered by the service) – available from Intersys here
Disaster recovery (unless separately agreed) – available from Intersys here
Business Continuity Planning and Business Impact Analysis exercises – available from Intersys here
Data Protection and GDPR compliance exercises – contact Intersys for a quote
Every support package will be tailored to your needs. Just fill in the form below to give us some idea of what you're looking for and we will get back to you with a customised quote.