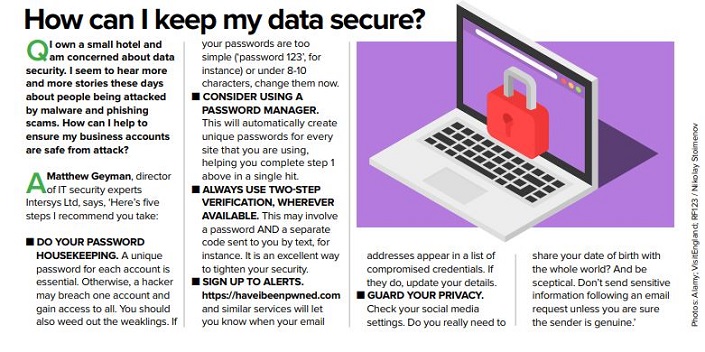 We were recently asked to offer expert advice on how the hotel industry can keep customer data secure. Intersys Managing Director Matthew Geyman was interviewed in the first edition of Quality Matters magazine – a new industry publication for participants and members of VisitEngland and AA schemes.
The first edition of Quality Matters magazine.
Quality Matters aims to provide helpful tips and advice to providers in the accommodation and leisure industry. These include hotels, guest and self-catering accommodation and campsites as well as attractions, restaurants and pubs. As the industry is heavily reliant on customer data for the booking process, they were keen to get expert ideas on how to safeguard this sensitive information.
Matthew Geyman said "It is vital for business owners in the hotel and leisure sector to ensure their customer data is kept secure at all times. It can be particularly challenging for smaller operators to stay ahead of the latest technology advice but failure to do so can have devastating consequences for their business. It was a great opportunity to advise a sector that is so largely dependent on sensitive customer data."
Over the last two decades we have been giving IT security advise to a range of sectors and we are happy to have had the chance to counsel the leisure and hotel industry on an essential part of their business.