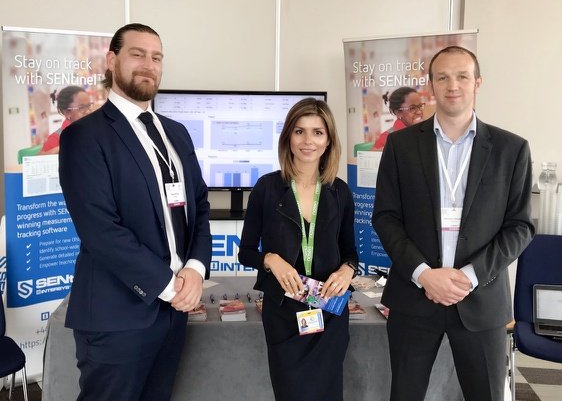 Tracking SEN School Success: SENtinel™ wows at nasen LIVE 2019
The Intersys team recently showcased our award-winning SEN school metric tracking software SENtinel™ at nasen LIVE 2019. We were really excited to display a tool that we developed in collaboration with Whitfield Academy Trust, at one of the most hotly anticipated events for SEND educators across the country.
Manning the stand were Intersys Professional Services Director Mark Kirby and Technical Director Richard Geyman alongside Dr Evelina Dimopoulou, Vice Principal of Whitefield Academy Trust, whose guidance has been invaluable throughout the process.
Seal of approval from Whitefield Academy Trust
The creation of SENtinel™ has been three years in the making and the tool has since gone from strength to strength. It is now the tracking software of choice for Whitefield Academy Trust — a reputed National Teaching School. Dr Evelina Dimopoulou said "SENtinel™ has enabled us to assess pupil progress and achievement holistically taking into account the various factors affecting each pupil's learning. Presented pictorially and in a variety of forms, SENtinel™ has made data available, relevant and accessible to parents, teachers and professionals and facilitated meaningful discussions about each pupil's progress and plan ahead."
Elaine Colquhoun OBE, Chief Executive Officer, Whitefield Academy Trust added "SENtinel™ is a vital tool for Whitefield as it provides us with a unified pupil progress tracking solution. It has made it possible for the SLT to accurately track pupil progress and attainment and demonstrate these for internal reviews and for Ofsted inspections. By providing us with really in-depth data of our students' progress, SENtinel™ has helped us fulfill a critical part of our function as a SEN school."
Understanding the needs of SEN Educators
Last year SENtinel™ won the 2018 IT Europa Award for Best Government/Utilities Provider of the Year. This year we were committed to introducing it at nasen LIVE. The day-long event provided unique insights into the latest SEN teaching methods, tools and best practices as well as providing a great networking platform for those in the field.
Intersys Director Matthew Geyman said 'We had a fantastic response to SENtinel at this year's nasen LIVE. There is a real need amongst SEND schools to accurately and holistically track pupil progress. This is especially true now in light of the latest Ofsted requirements. Exhibiting at nasen LIVE, gave us the opportunity to listen to SEND educators' needs and demonstrate how SENtinel was geared towards meeting those obligations".
We now look forward to adding new features further improving SENtinel™ and in doing so, helping more SEN schools achieve the best for their pupils.
For more information check out the SENtinel™ website here.