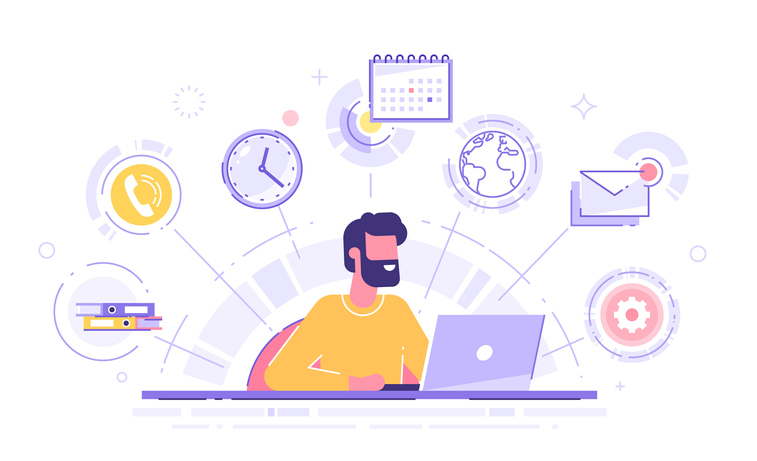 Everyone is familiar with Microsoft Office components like Word, Excel and PowerPoint. Less well-known are the other parts of the Office 365* suite that seamlessly integrate with these 'big three' as well as each other. If you're someone who likes to create lists and tick off projects and tasks as you complete them, you'll love To-Do. Need to collaborate with a colleague? Try SharePoint. Do you need to produce a report on customer engagement? You'll want to take a look at Power BI.
However, there's more to Office 365 than a selection of useful software. With its cloud-based storage and collaborative tools, Office 365 can increase business productivity and security on a predictable budget.
Here are our top tips for how to use Office 365 to increase productivity and help your employees work smarter, not harder.
Mobility
Hybrid working is here to stay. 78% of UK workers surveyed have expressed an interest in working remotely at least one day a week in 2022.
The advantage of increased mobility was really brought home during the pandemic. While many organisations had to scramble to adapt to remote working, those that had already adopted Office 365 were able to segue seamlessly into the brave new world of work-at-home.
While we're all looking forward to waving goodbye to the 'new normal' there's one change that looks set to stay: increased remote working. 78% of UK workers surveyed have expressed an interest in working remotely at least one day a week in 2022, and a number of large corporations have committed to hybrid working in the future. Office 365 allows users to work from anywhere so long as they have an internet connection.
But the benefits go beyond enabling a work-from-home set-up. Sending someone on a business trip? They can access their documents on-the-go. Forgotten an important document you need for a meeting? You can access it from any device. Have to work from a branch office? Your documents are all synced in the cloud.
Intersys tip: your administrator can even access the admin console on their phone using Microsoft's proprietary app, allowing them to deal with unexpected situations such as locking an account — even if someone is using your Office 365 account on their personal device.
Secure Storage
While some people mistakenly believe that files stored in the cloud are not secure, the truth is that Office 365 comes with advance security features that make cloud storage more secure than your hard drive. As Office 365 is continuously updated, you never need to worry about whether or not you have the latest security patch.
Intersys tip: One of the most valuable security features is the control it gives users over their data. For example, if a laptop is lost or stolen, you can remotely wipe all Office 365 data from that laptop, while still allowing other devices full access to the data. "This is a truly valuable feature," says Intersys MD Matthew Geyman. "The growth of the mobile workforce has significantly increased the likelihood that a device with access to important data will get lost. The ability to remotely wipe data from a device helps eliminate the threat, while simultaneously ensuring no loss of productivity."
Enhanced Collaboration
Office 365 makes collaborating with colleagues a breeze.
In 2021 the word Zoom has become synonymous with video collaboration, but if you've got Office 365 then you've got the perfect all-in-one solution for video collaboration, file sharing, screen sharing, chat and more with Microsoft Teams. No need to have another subscription just to avoid the dreaded 40 minute cut-off in Zoom; you can work for as long as you need with Teams.
You also get secure storage through OneDrive and SharePoint for all of your files, making sharing files safely a snap. Office 365 can be installed on up to five devices per user, so you can access your files from anywhere on any device — a great feature for when someone needs a file ASAP and you're nowhere near your computer. All you need to do is find the file on OneDrive/Teams/SharePoint and send them a link to the file they need.
Intersys tip: "Teams works great on your mobile phone too," says Matthew. "So you can join a meeting from virtually anywhere."
Seamless Integration
One often overlooked advantage of using Office 365 is the fact that you have an integrated package. With so many tools that are all part of the same 'ecosystem', you don't have to worry whether different applications will play nice with each other.
Intersys tip: If you're using Teams and you need your Outlook calendar, just click on the calendar section of Teams; all of your calendar information will have been imported automatically.
Business Continuity
With all your data stored in the cloud and backed up regularly, your business can continue to function normally should there be a disaster at the office. If your desktop fails or the office floods, your emails, documents and contacts are safe in the cloud. In addition, you don't have to worry about installing software or running updates.
Intersys tip: Microsoft Exchange offers excellent recovery and retention support for email infrastructure, so you can restore deleted emails, or even entire mailboxes (for up to 30 days after deletion.)
* On 21st April, 2021, Microsoft officially re-branded Office 365 as Microsoft 365. As most people still use the name Office 365, we have continued to use that name in this post.
Intersys are fully certified Microsoft experts and partners. To find out more about how Office 365 can help your organisation, get in touch now.